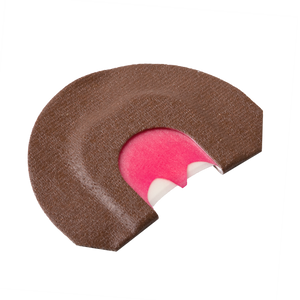 Dirty Bird
Regular price
$7.00
Sale price
$8.00
Unit price
per
Triple Reed
Realistic scratchy yelps with excellent volume for long distance calling.
Product Description
Our focus has never been to just sell game calls. It's been our goal to produce the most realistic sounding calls on the market.  Over the last thirty years we've refined our products to be easy to use, unmatched in quality and ultimately help the hunter be more accomplished in the field.  There are too many other things that can go wrong when hunting, don't let your call be one of them.
Instructions:
Place the diaphragm call in the roof of your mouth with the open end of the horseshoe facing towards the tip of your tongue, and the taper of the horseshoe towards the back of your mouth.  Use the sides of your tongue to hold the diaphragm in place against the roof of your mouth, so that air can pass over your tongue and under the latex strips.  For most sounds, a deep breath blown past the latex strips will produce good results.  Practice is the only way to become proficient with your mouth calls.
Proudly manufactured in the USA by Country Boy Game Calls, LLC
PO Box 26, Waterbury, NE 68785
Handmade and field proven
---
Share this Product
---